Take the "Safe Driver" Pledge
Six Years Ago Today by  Ilene Meckley
As we approach the Memorial Day weekend here in the United States, I urge every motorist to be a safe and smart driver.  Today, May 23, I am observing the sixth anniversary of the traffic accident that changed my life.
Not a pleasant memory by any means, but the accident that put me in a hospital bed for nearly six months motivates me to encourage safe driving, especially at this time of year.
Every year on the anniversary of my accident I encourage my family and friends and newsletter subscribers to make a pledge to drive safely.   Every year I am gratified by the overwhelming response.
"Please join us in this pledge"
Take the "Safe Driver" Pledge


"I pledge to be a safe and smart driver or passenger this Memorial Day weekend and every day as I share the road throughout my travels."
"I hope you will take the pledge too."  Together we can save injury; we can save lives; we can save heartache.
To participate in this pledge
Please send your name and your pledge to [email protected]and forward this newsletter to all your friends, family and colleagues. Let's reduce that 40,000 a year death rate by getting 40,000 or more people to take the pledge.
Memorial Day weekend
Many people lose their lives or suffer injuries because someone makes a poor choice.  I want to encourage you to drive every day so that you never have to say, "I wish I had made a different choice", "if only I had or if only I hadn't…"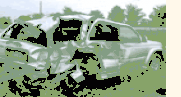 Keep in mind that approximately 40,000 auto related deaths are the result of poor choices.  Of those accidents, studies by the National Highway Traffic Safety Administration (NHTSA) of the Department of Transportation (DOT).
Show that the individuals under the age of thirty-four years old are among the hardest hit for injuries and fatalities.
Auto accidents also cost American taxpayers the outstanding amount of 150 billion dollars, every year.
http://ezinearticles.com/?Relatable-Auto-Accident-Data-and-Reminders&id=892563>
Memorial Day weekend marks the start of summer travel on the roads and highways and along with that comes lots of choices that you need to make.  We would like you to join us in helping save thousands of lives this Memorial Day weekend and every day.
Make the choice to be alert; don't drive when you are too tired.
Make the choice to pay attention to driving; don't text, have conversations on the cell phone or with passengers all of these can be distracting (limit them).
Make the choice to have a designated driver; driving under the influence of alcohol is not only against the law, it can be deadly.
Make the choice to drive courteously; drive as though the car next to you is carrying your loved ones.  It's your choice to make!
Above is a pledge which is very important to me because I am a first hand account of what can happen when someone makes the wrong choice and how what happens to you affects everyone you know, your family, your friends, your co-workers, everyone.